In Stock Item: 20-piece Steak Knife Set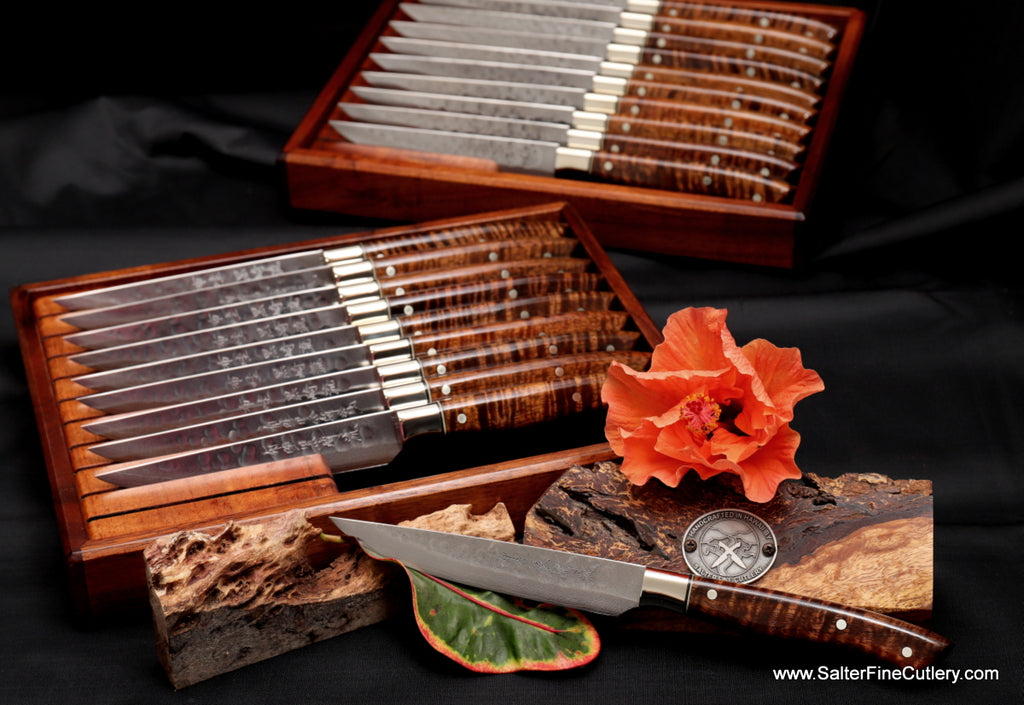 Like all of our custom steak knives, these beautiful knives have been individually hand-forged by a master bladesmith in Japan using traditional forging methods. The knives are made from one of the highest quality culinary stainless steels in the world, VG10 Japanese steel. They have an elegant highly polished hammered finish with a damascus pattern near the blade visible; each blade is signed in kanji by the bladesmith.
The knife handles have been carefully handmade with an exquisite specimen of very curly Hawaiian koa wood that looks striking together with hand-contoured nickel-silver bolsters, black and white accent spacers, and solid nickel-silver pins. Finishing details include black accent spacers along the spine.
As custom made products, we can and do offer all of our knives in a variety of display and storage options, or are happy to offer knives only.
The price shown is for knives with two in-drawer storage racks only. We do have additional blades like this in stock for custom orders. Now accepting custom orders. 
You may add gift, keepsake boxes or one of our beautiful custom presentation boxes to any set for an additional charge. You may also wish to consider adding a matching carving knife or carving set to your purchase.
Update: This set has been sold. Contact us to place your own order. We have blades available in stock
Contact us at 808-883-0128 for further information.
All craftsmanship is fully guaranteed.