Bunka-style Chef and Vegetable Knife with Raptor Finish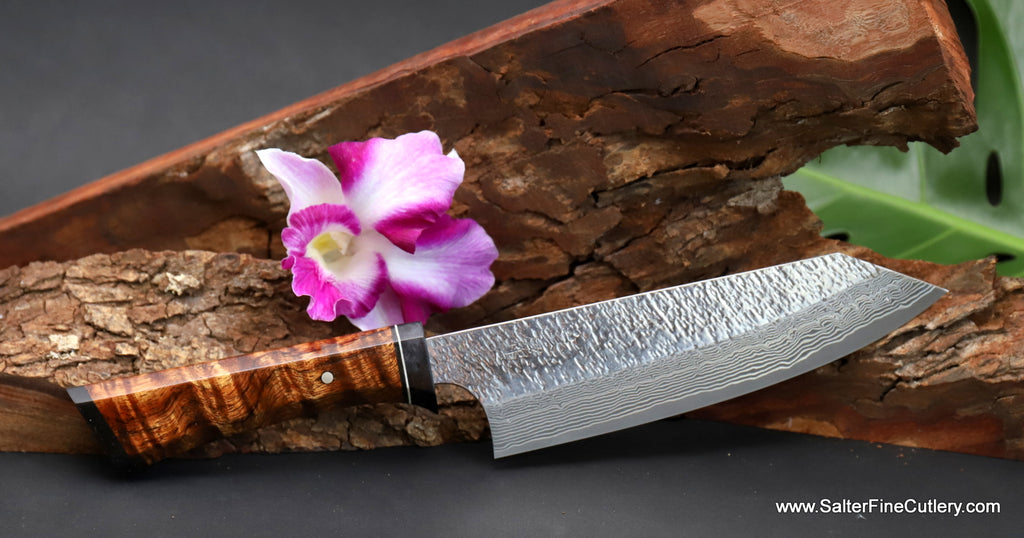 For an impressive addition to your kitchen, or a beautiful gift idea, this new bunka design chef knife will amaze and delight the most discerning chef or home cook.
Truly a luxury gift, this 'Raptor' design cutlery line is simply stunning and will become a favorite 'go-to' knife for vegetable or meat prep.
Beautiful, unique, super high quality! This knife is functional art meant to be used and passed to future generations.
Custom designed, this bunka has a blade length of approximately 7 inches. 
It has been hand-forged exclusively for Salter Fine Cutlery in Japan from a very high quality Japanese stainless powder metal die steel, called R2.
Every knife has been forged from a solid bar of steel. There are no welded sections like you find in many production knives.  
The custom pattern featuring hammer-claw marks with damascus lines near the blade edge was created in Japan by an 8th generation bladesmith to our own Salter Fine Cutlery proprietary design. He made the blade using time-honored traditional Japanese forging methods. The claw marks have a beautiful high-polished finish which contrast beautifully with gray matte damascus lines near the bottom section of each knife.
Our custom artist-series handle was created on the Big Island of Hawaii.
Completely handcrafted, it features exotic and rare super curly Hawaiian koa wood and Mozambique ebony (both sustainably harvested) with black and white decorative accents.
The knife is offered as knife only. Ask about ordering an optional stand or beautiful handcrafted Salter Fine Cutlery keepsake box. 
Sorry, this knife has been sold.   
Contact us for further details or to place your custom order.