180mm New "VillageForge" Collection Bunka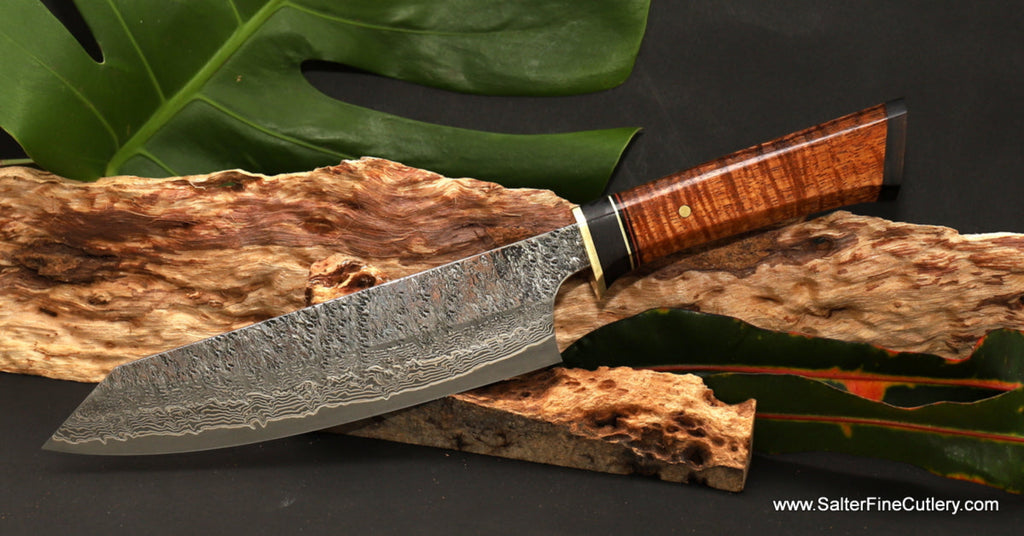 The new "VillageForge" design-series is a unique combination of point-hammer marks blending half-way down the blade to a series of beautiful damascus patterning with a matte finish. The effect, in bright lighting, is not unlike that of a shimmering piece of jewelry.
The 180mm bunka blade was an original Salter Fine Cutlery design and has been hand-forged for us in Japan by a very talented traditional bladesmith to our specifications. Each blade is individually made by hand. When it reaches our workshop in Hawaii, each handle is individually handcrafted to fit that blade only. 
About the Knife
Blade shape designed by Salter Fine Cutlery
Excellent rocking action
180mm blade length (approx 7 inches)
Approx 1-3/4" blade width at widest point
R2 super high-quality Japanese cutlery stainless steel
Forged from a single bar of steel, no welded sections
Super sharp edge capabilities
Superior edge retention
Hand wash and dry only
Functional Art that is meant to be used for a lifetime with proper care and maintenance.
We are sure it will become a favorite 'go-to' knife for most of your everyday cooking needs. In our kitchen, it is used almost daily and is as perfect both for cutting veges as it is for cutting meat, poultry or fish.

About the Handle
Handle length: 4-3/4 inches
Extra-decorative series handle
Octagonal straight back design
Slight inward curve on underside for better grip and comfort
Flared bolster area for added grip security
Slanted end of handle
Hidden tang guaranteed to last a lifetime
5A grade curly Hawaiian exotic and rare koa wood
Mozambique ebony accents and end cap
Brass top fitting and accent piece
Cinnamon and black decorative striping
This knife is being offered as knife only. Purchase an attractive wood or leather custom storage sheath, box, mini knife block, stand, in-drawer rack or other storage idea. If we can make it for you, we will. 
Update 8/1/2023: This knife has been sold. We do have more blades in stock. 
Contact us to place your custom bunka order.