240mm Artist-Series Collectible Carving Knife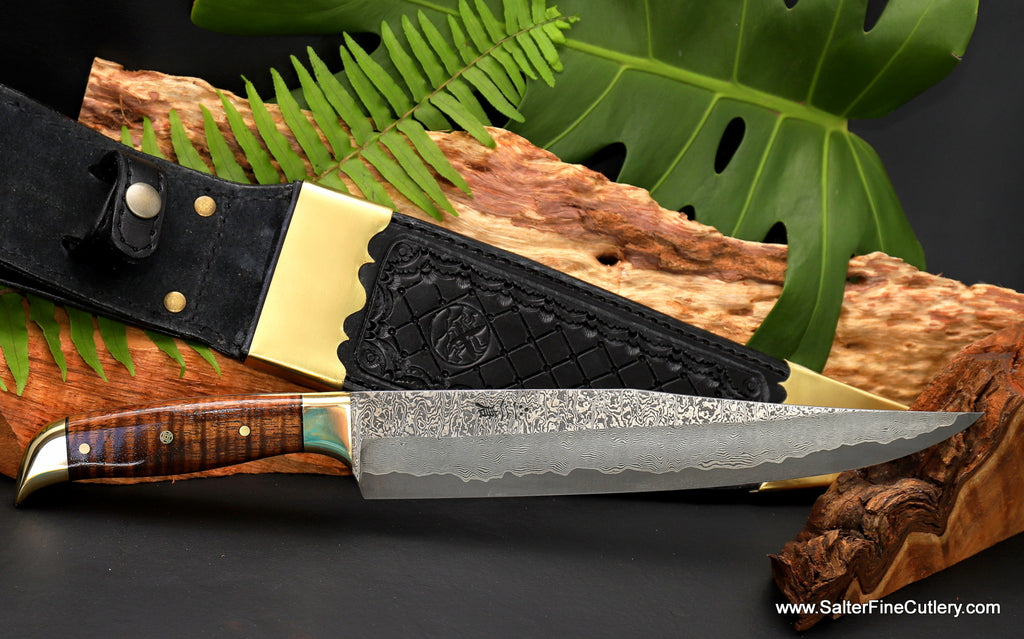 Celebrate summer and grilling season with this one-of-a-kind artist-series carving knife!
Truly a work of functional art that is fun as well as functional, this artist collectible carving knife has been made in the style of a very cool bowie. Use it as the perfect addition to any large gathering, to carve that holiday roast, or wear it as a bowie.  
This knife is from our top-of-the-line collection called the "Charybdis Collectible" series of fine cutlery. To read more about this product, please click this link: 
Hand-forged in Japan by an 8th generation blade maker, the knife has an incredibly beautiful and unique damascus pattern and finish. Every swirl in the pattern was made individually by the bladesmith. As the pattern imitates whirlpools, the ripples of the damascus lines along the bottom portion of the blade resemble running water.
About the Blade:
This gorgeous Japanese hand-forged 240mm (approx. 9-1/2") clip-point style blade will make the perfect addition for any knife collector or cooking enthusiast. It will be the perfect addition to any large gathering, Bar-B-Q party, or holiday roast.
The knife features a full-tang design by and made exclusively for Salter Fine Cutlery.  It was hand-forged from a solid bar of extremely high-quality Japanese powder metal die stainless steel.  The quality is much higher than knives made using premade billets from sheet steel and the stock removal method. 
The blade is hollow ground for cutting large roasts with ease.
About the Handle:
Our signature custom, handcrafted handle is made from exotic and very rare premium old-growth Hawaiian koa wood with both handmade brass bolster and pommel fittings. Finishing accents include black spacers, black tang spacers and solid brass peened pins.
As with all of our products, they can be purchased with or without storage options.
This knife is being offered with a custom extra-decorative handmade leather belt sheath.
About the Sheath:
The sheath has been handmade for us in Missouri by Andrew Brown. It is a bowie style with pigskin lining and a belt-loop flap. A snap secures the knife in place while being worn and was made to an exact fit. 
While black, this sheath is anything but plain. In fact, it demands attention with extensive hand-tooling and brass accents on both ends. Our Salter logo is displayed in the center section. 
Overall length including sheath in inches: 16-7/8"
Add a custom stand, or keepsake or presentation box to beautifully display or store your knife. Please see our Custom Knife Storage Systems to make your selection. 
Update 6/9/2023: Sorry, this knife has been sold. Contact us for your own personal carving knife request.
All craftsmanship is fully guaranteed.