210mm Santoku with Polished Finish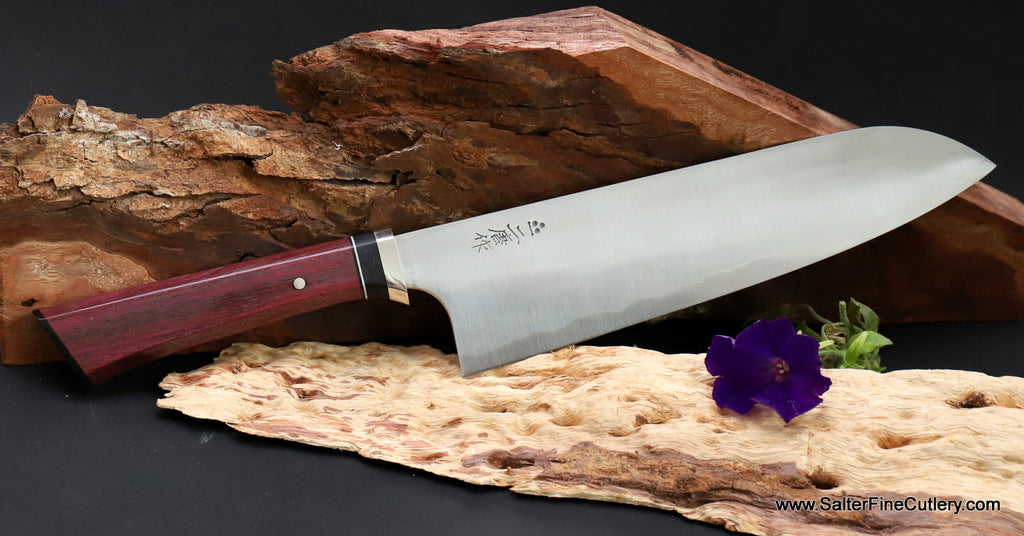 This new 210mm (approx 8" blade) stainless steel santoku features an individually hand-forged blade by our top-of-the line Japanese bladesmith who also makes our Charybdis and Raptor design series knives. 
Designed for use cutting vegetables as well as meat or fish, this knife will be the perfect fit for anyone and any cooking or diet preferences. It is light and well balanced and is very unusual, having a custom made extra long blade for a santoku.
Sleek, modern and beautiful in its simplicity and high polished look, the knife has what is called a clad finish, meaning there is no pattern except the hand-worked hairline finish and bladesmith's signature hamon along the blade edge. 
The blade is signed by the bladesmith in kanji with both his name and trade logo.
The R2 powder metal die stainless steel is the best cutlery steel available and boasts superior edge retention and performance capabilities.
For the handle, we have chosen purple heart, with accents of Mozambique ebony and a nickel-silver top fitting (bolster).  Because it was a custom order, the handle is made to fit a very small, petite older ladies hand. 
Price is for knife only. 
Update 7/3/2023: Sorry, this knife has been sold. We do have one more blade available. Contact us for information or to order.
All craftsmanship is fully guaranteed.